If you are looking to get a quotation for a mezzanine floor but know little about the structures then we have provided a few questions / pointers to have to hand when making that initial call or email.
The most common details required are:
Length x Width (or shape if not rectangular) of the overall floor area.
The height, which is either to the top of the decking or clear height underneath the mezzanine floor.
If it is butting up to any walls and whether you need perimeter handrailing to any open mezzanine floor edges.
Any staircases
Loading gates (Usually Safety Pallet Gates).
First floor use (i.e. Storage, production, offices).
Will there be a fork lift truck available on site to use?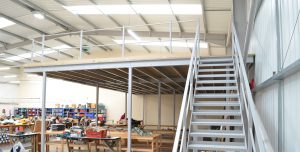 This will usually be enough information to enable any reputable mezzanine floor supplier to put together a reasonably accurate quotation.
It's always best for the mezzanine floor supplier to visit site and have a look in case there is anything unusual that may affect the price.
Personally I feel it's always good to visit site anyway even just to meet the customer and start to forge a trusting relationship. There are always lots of questions to ask and details to discuss.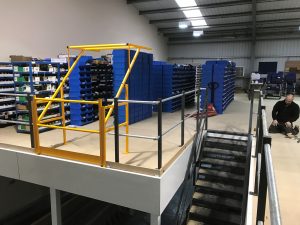 If you are unsure of any information required feel free to email us sales@storagedesignstelford.co.uk